Today I'm linking up with Kmama from The Daily Dribbles for her proud mommy moments meme and after close to 16 years of being a mom I may have a few things to write about. Some good and a few that are not so good… but then again I'm sure we all have those moments.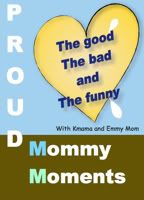 So let's get on with my mommy moment.
Spring has finally sprung here in Michigan and that means we pulled the trampoline out of the shed and put it together for the kids again. They love it and are out on it all the time.
They jump, do tricks, play games, and even sleep on it after getting out of the pool during the summer. They've even played underneath it.
Recently my son has found the sheer joy in jumping and bouncing on the trampoline. He's even learned the word 'bounce' and as soon as he steps out the back door he runs towards it saying, 'bounce'! Once up there he crawls around on his hands and knees bouncing and then slowly tests out his feet and tries to stand. Eventually he makes it and starts to bounce, with his feet never actually leaving the trampoline.
It worries me when he's on it because he's so small and it's so far from the ground and with him being a toddler he knows no fear. He doesn't know how far down the ground really is.
Can you see where this is going yet?
I took Andrew out to play after work one day and he made a bee line for the trampoline and I put him on it. He laughed, squealed and bounced around happily. I moved quickly around the outside edge of it making sure that he didn't fall.
It's amazing how fast a small child can move and how fast I don't move. Yup… you guessed it… he fell off.
So there's my mommy moment. Not so proud.