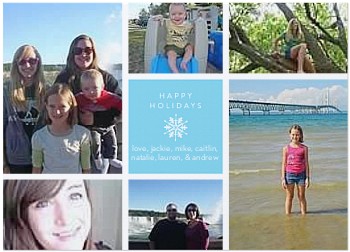 Many Memories Snowflake Christmas Card
Earlier this fall I wrote a post about the holiday cards from Shutterfly and they provided me with this awesome code where I was able to get 50 free cards this year! Incredible awesome! The only downside was I couldn't find the card that I had originally selected! The hardest part though was trying to find the right pictures for the card… I'm not even sure that the ones I've selected are the best, but they'll do because it's all I have! Besides… have you tried to get a really good picture of your 15 year old daughter!
I love getting & sending cards and packages in the mail! And the holidays are the best time for that! I love that I can create these cards that are more personal than the regular boxed greeting cards that I normally get. Next year I will plan way in advance and get some really great pictures of the kids! And the husband and I!
Show us your holiday card and link up at the SITS blog!