I love food. A lot.
Especially comfort food & sweets. But it's those things that caused me to gain so much extra weight and not lose it so easily. That is the past though! If you didn't know I joined up with over 30 other amazing women in a weight loss competition organized by Wendy from Wendy Will Blog.
I have a goal weight, but really it's more about how my clothing looks and feels and of course the size. I don't want to be shopping on the edge of the plus size department because while some of the clothes are cute there simply are not as many options as there are in other departments.
That's why…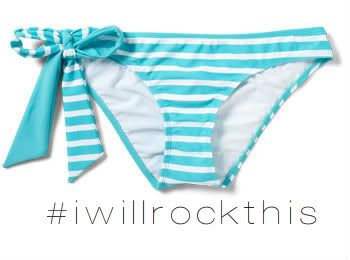 Yes, I will! #iwillrockthis! Maybe not this summer but I will be able to wear a swim suit like that again someday!
I am proud to say that since last week I have lost 3 lbs! It's such an amazing feeling to step on that scale and actually see progress. It makes it all worth it and encourages me to keep on trying and working towards my goal. The first few weeks I simply started by watching what I was eating and tracking calories and this week starting on Sunday I added in exercise each day. Bike riding on Sunday, 30 Day Shred on Monday, and an almost 2 mile walk with my son in the stroller on Tuesday! I'm sore but I feel great!
Because I've been cutting out breads, flours, and sugar I've had this a major craving for bread so I gave in… I made some banana bread. Whole wheat banana bread!
I was skeptical at first because I didn't think that it would be very good… to dry or dense considering that it was made with whole wheat flour. I was surprised because it turned out better than any other bread that I've ever made! It was delicious, moist, and amazing beyond words.
Ingredients
1/3 cup applesauce
1/4 cup honey
1/4 splenda – or sugar
1 teaspoon vanilla extract
1/4 cup eggbeaters – or 2 eggs
1 cup mashed bananas
1 3/4 cups whole wheat flour
1/2 teaspoon salt
1 teaspoon baking soda
1/4 cup hot water
Directions
Preheat oven to 325 degrees F .
In a large bowl, beat oil and honey together. Add eggs, and mix well. Stir in bananas and vanilla. Stir in flour and salt. Add baking soda to hot water, stir to mix, and then add to batter. Blend in chopped nuts. Spread batter into a greased 9×5 inch loaf pan.
Bake for 55 to 60 minutes. Cool on wire rack for 1/2 hour before slicing.
The best part about this bread other than the flavor is the calories in it! One piece is only 105 calories!
How to curb your sweet tooth or carb cravings while dieting?
As always I'm linking up with Seven Clown Circus and Parenting by Dummies for Wordful Wednesday!