I don't know what it is lately but I'm in a mood and I can't seem to shake it.
Maybe it's the weather here in Michigan. It's cold (bitter cold this week), windy, gray, and almost always overcast… dismal is a good way to explain it. Where I'm at we don't even have snow to make it somewhat tolerable and the sun sets so early that it's like it's night all the time (I'd hate Alaska… a lot).
Maybe it's the kids. When you have four kids ages 16, 12, 9, and 2 (well 2 at the end of the month) and everything is non-stop go…go…go… Or NO! Whine…. cry…. scream…. complain…. and my favorite yet…. mouth off.
Maybe it's the fact that I feel like I don't measure up to my kids standards sometime.
Maybe it's my husband's business. He owns his own business and it's doing really well but it takes so much of his time that there are times I feel like I'm a single parent. He's always working…. doesn't matter of it's a weekend or not. If a customer needs something he deals with it.
Maybe it's my job. I realized today that I haven't had a headache in over 2 weeks…. know what that means? While I was on vacation there wasn't the stress of work hanging on me. It's work that is causing my headaches.
Like I said… I don't know what it is. But it had my stomach in knots last night and in tears for almost two days. All I know is I want things to be normal… is that to much to ask for?
Here's the absolute worst thing of all. Blissdom is coming up in February and I may not be able to go now that I've figured out the total cost and it kills me…. I want to go for so many reasons. I want to meet up with all the wonderful people I've met online, I want to learn & grow so I can further my goals, and most of all I want to meet my best bloggy friend ever, Jill.
What do you think? How do I get out of this slump? How do I change the mood I'm in?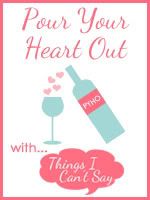 *** Don't forget to enter the Red Gold Tomatoes Giveaway! ***