Today I'm linking up with Kmama,  a good friend of mine that I got the privilege of meeting a couple weeks ago in Chicago at Bloggy Bootcamp, to tell you about one of my proud mommy moments.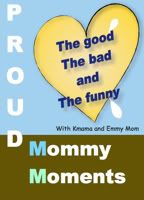 Band is a big thing around here and they take it seriously. It's so big that if you're not in the band here you're nobody!
Since the beginning of August my daughter has been at school along with over 200 students at band camp. They been marching and marching through the blazing heat, the rain, and oddly enough through thunder storms and funnel clouds. No worries…. they sent the kids inside and then home. But the kids are dedicated and have put in a lot of work to remain one of the number one high schools in their district.
This is the first year that my daughter is marching with the Trojan marching band (TMB). Freshman aren't allowed to march and at the end of the year take a playing & marching test before they can get into TMB… see I told you they're serious here. To say that I'm a proud mama is to say the least.
Caitlin has been in band since she was in the 5th grade and has been first chair & unchallenged since the day she started. She's excelled in band, as well as other classes, and has won several ribbons for her achievements in various competitions. Honestly, she's good enough to do something with her music after high school.
This past Friday was the first football game of the season which means that it was also the first performance of the TMB and I was that mom. You know the one in the stands fully dressed in the team colors with multiple camera's and of course the iPhone in which to quickly share pictures of my kids out of the football field.
That night I took 2 or 3 videos and over 100 pictures of my daughter, the band, and the football game. See… I told you that I was that mom! But in my defense I wasn't the only parent that was doing it!
I was lucky and was able to get great seats right on the 35 yard line, 3 rows up right in front of where she was standing for many of the songs that they played. Notice the crooked hat… I asked about that and they're not allowed to adjust it, brush hair out of their face, sweat off their brow, or anything like that. So she marched with her hat like that for that entire routine.
When they're not playing the band sits in the end zone in bleachers that are specifically for the band. They play when there's a touch down & at other important moments in the game (yea, I don't know all technical details just that they play).
So tonight (I know it's a Thursday game because of the holiday weekend) I'll be in the bleachers with my cameras in hand again taking pictures and video of the band and my daughter. Why? Because I'm a proud mom!