Alright so if you didn't guess by the title of my post today then I'll say it again…. It's my SITS day!! That deserves a double #WOOHOO and then some! To say that I'm pretty excited about this is an understatement! I'm above the top excited! Doing flips excited! Screaming from the rooftops excited!
You know what SITS is right??? They're a community of over 9000 women bloggers who support one another through their blogs (commenting…. and lots of it), education, and of course by being the featured blogger or by being the SITS girl in the spotlight. If you're unsure of which community you should join when first starting out in the blogging world I would highly recommend this one!
A huge thank you goes out to the SITS girls behind the scenes running the entire show, Tiffany, Francesca, Kat, and Angie for all the hard work they do and for celebrating all of us bloggers out there.
Thank you for featuring me today!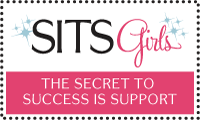 So, if you've never been here before then welcome to my little corner of the world and thank you for stopping by! Now, if you have been here before then thanks for coming by again dear friends!
Hmm…. what can I tell you? I know… I'll make a list!
I'm a wife to a pretty great guy and we've been married for just over 4 years. It's been an amazing ride so far and I can't wait to see what the rest of our lives brings us.
I am a mom to 4 pretty amazing kids! 3 girls… Caitlin 15, Natalie 11, Lauren 9, and Andrew 18 months (Yup, I started over again!)
I work full time outside the house as a product owner managing projects in a software development company….. Yes, I work with programmers all day long.
My dream job is doing something in social media where I can work from home where I can spend more time with my kids.
Blogging is awesome…. actually it's more the interacting with all the great people that I've met through blogging. I've learned that no matter what I'm not alone and that there is always someone there to help me out.
I love to cook and bake. A lot. I don't focus very much on that here on my blog, but I have just started posting a new recipe regularly on Monday's.
I love #wineparty on Twitter every Friday night!
I dislike #TwitterJail
I just like Twitter in general… Do you follow me?
There are all sort of odds and ends you'll see posted around here! Anything from reviews, giveaways, pictures of my kids, complaints, rants, and of course a few meme's! Oh, speaking of that my favorite one is The Red Dress Writing Club and I usually post something based on their prompt every Friday. So if you're looking to try some fiction or a twist on some non-fiction check them out!
Alright, guess that all I can think of right now! Thank you for stopping by and I hope that you come back and visit me soon!